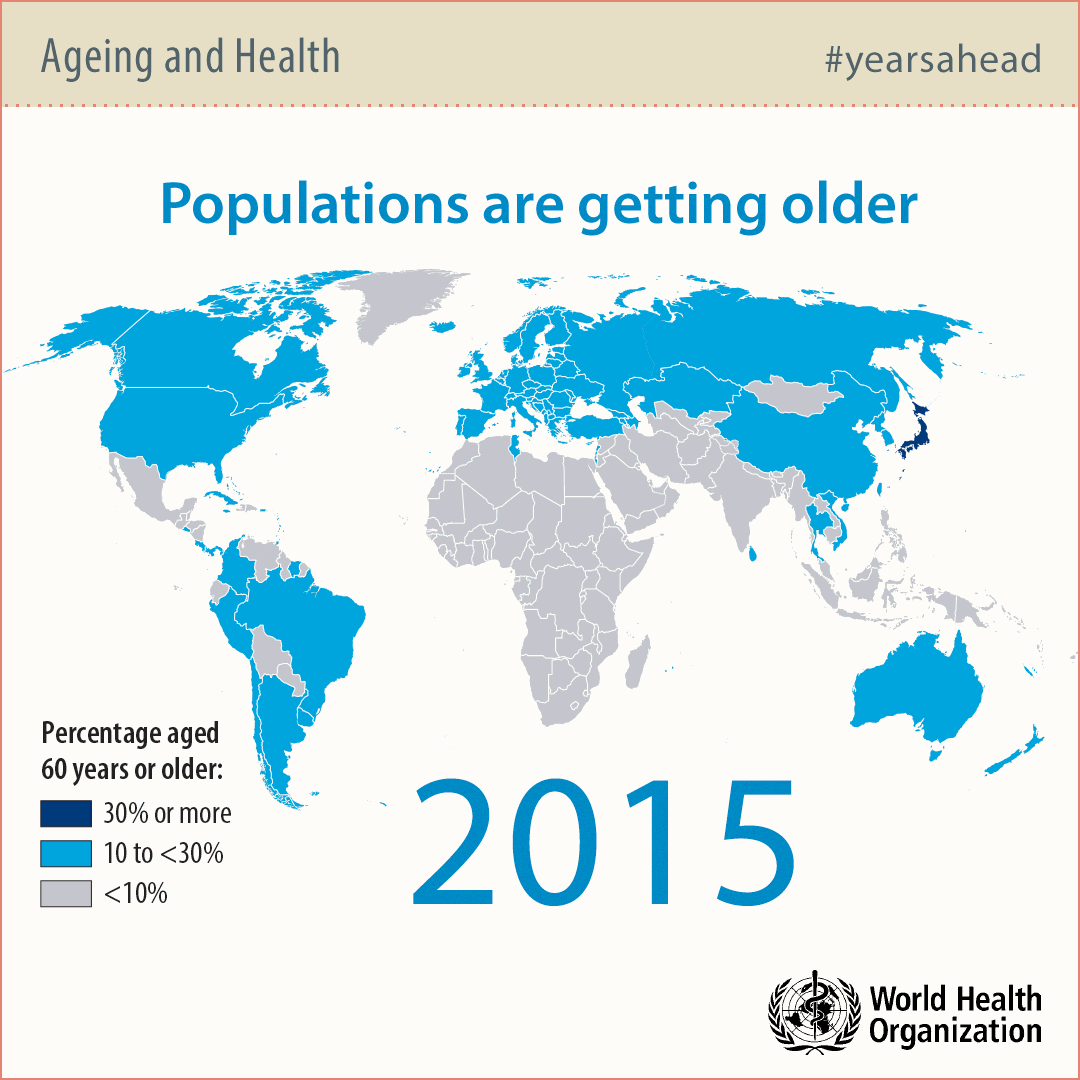 Global meta-trends suggest that during the coming years (by 2030) the earth's population will reach the unique point in time at which there will be an inverted shift in the world population. For the first time in history, the percentage of people over 65 years of age will be higher than the percentage of young people.
This is without a doubt an historic turning point. Modern breakthroughs in science, technology, and medicine have led to a rapid rise in life expectancy and the emergence of a gigantic group of active, independent and mobile seniors.
The world's population is ageing. As fertility declines and life expectancy increases, the proportion of people aged 60 and over is projected to grow in all regions of the world.

There are currently around 901 million people aged 60 or over worldwide, representing 12.3 per cent of the global population. By 2030, this will have increased to 1.4 billion or 16.5 per cent, by 2050, it will have increased to 2.1 billion or 21.5 per cent of the global population.
The global population age 60-and-over will encompass more than one in five human beings by mid-century, rising from 900 million in 2015 to 2.1 billion in 2050, according to the World Health Organization.
The senior (60+) market is becoming a large, significant and influential population segment. Its size and unique characteristics make this audience a relevant and important player, for which newer and more innovative support services are being established. It is enormous market that includes distinct groups and subgroups, each with its own unique consumer behavior that is changing and becoming continuously updated.
The aging population is concerned with sustaining their health and continuously improving their wellness. They are more bind to healthy way of living and sports. They aim to sustain independence and manage their daily routines self-sufficiently. They wish to be connected to their communities and aim to maintain fruitful social life and enriched curriculum.
They are technologically connected and substantial percentage use the internet regularly to search for information, scan the news, keep in touch with family relatives, and enjoy entertainment, culture and recreation.
The world moves to a digital future
​
The digital transformation of communication platforms reshapes the industry landscape. It offers companies an opportunity to rebuild their market positions, redefine their business systems, and create innovative offerings and services for customers. It enables new business models and addresses the changing customer expectations and needs.

Digital transformation is changing the ways of working for telecom companies. Companies move from analogue based public switched telephone network (PSTN) to an all–Internet Protocol (IP) network to deliver voice.
Those who will continue to maintain old systems will be at a disadvantage, while other competitors come out with new data services with greater quality and innovative applications. Companies need to make their networks more cost efficient to run, faster and easier to maintain, upgrade and operate. Many companies struggle to meet these expectations because of slow design processes, limited customer input, and rigid IT systems. Nonetheless, this is how networks operators will compete in the future.
Consequently, many tel-communication companies around the world announced they will stop promoting analogue communication lines and move to digital platforms – IP Voice.
BT in England, for example, plans to shut its traditional telephone network in Britain, with the intention of shifting all customers over to IP telephony services by 2025. It is upgrading its phone services in response to the changing customer needs and demands and because the analogue equipment that powers telephone services today is aging and increasingly difficult to maintain.
​